Loan Protection Products
Debt Protection
LIFE - TERMINAL ILLNESS - ACCIDENTAL DISMEMBERMENT - HOSPITALIZATION - FAMILY MEDICAL LEAVE LOSS OF LIFE OF A DEPENDENT - DISABILITY OR INVOLUNTARY UNEMPLOYMENT...We are here to help YOU!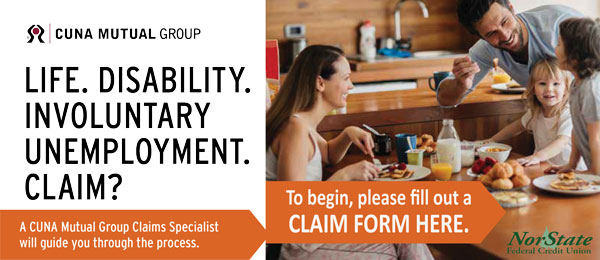 The Debt Protection Claims Portal is quick an easy to use. If you prefer to call us, dial 1.855.400.8505 to begin the process and a CUNA Claims Specialist will guide you through filing your Claim.
CLICK HERE to enter the Member's Claim Portal.
CUNA Mutual Group is the marketing name for CUNA Mutual Hoding Company, a mutual insurance holding company, its subsidiaries and affiliates. MEMBER'S CHOICE® credit life and credit disability insurance are underwritten by CMFG Life Insurance Company.
GAP (Guaranteed Auto Protection)
Helps you bridge the gap between the amount you owe on your vehicle and the amount your auto insurance company pays. Applies to all new or used vehicles, lease or purchased.
Auto Exam (Vision Warranty Corporation)
When buying any vehicle, there is always a chance of having a mechanical breakdown. Mechanical breakdowns can be very expensive to repair. With a vehicle service contract (warranty), you can add protection against the unexpected high cost of vehicle repairs, and in some cases eliminating the cost altogether.